For owners

Members
Adopting a dog is a great way to give a dog or puppy a second chance by providing a new loving home.
Please visit your State's website to find out more information regarding rehoming dogs and to find breed rescue clubs near you.
---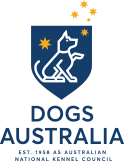 Dogs Australia is a not-for-profit organisation advocating for the preservation of purebred dogs through ethical breeding. It champions the highest standard of animal welfare through education and fostering dog-loving communities. Internationally recognised and established in 1958 as the Australian National Kennel Council (ANKC), the organisation promotes responsible dog ownership; maintains the ORCHID* heritable canine diseases database; funds research into canine diseases; and supports state and territory-based member bodies. Dogs Australia promotes breed conformation shows and community sports for dogs that fulfil a breed's natural instincts.