For owners

Members
To find breed or sport clubs please select your local State below.
If you want to find out more about a specific breed a breed club will provide you all the information you need to know. If you are interested in participating in one of the 17 dogs sports available in Australia contact your local sport club for more information.
---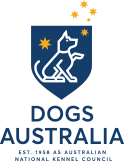 Dogs Australia is a not-for-profit organisation advocating for the preservation of purebred dogs through ethical breeding. It champions the highest standard of animal welfare through education and fostering dog-loving communities. Internationally recognised and established in 1958 as the Australian National Kennel Council (ANKC), the organisation promotes responsible dog ownership; maintains the ORCHID* heritable canine diseases database; funds research into canine diseases; and supports state and territory-based member bodies. Dogs Australia promotes breed conformation shows and community sports for dogs that fulfil a breed's natural instincts.