For owners

Members
To find your nearest breeder please select your local State below.
If you cannot find a breeder in your state for the breed you would like, we recommend you also try contacting a breed club who can help you find a breeder.
---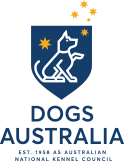 Dogs Australia is a not-for-profit organisation advocating for the preservation of purebred dogs through ethical breeding. It champions the highest standard of animal welfare through education and fostering dog-loving communities. Internationally recognised and established in 1958 as the Australian National Kennel Council (ANKC), the organisation promotes responsible dog ownership; maintains the ORCHID* heritable canine diseases database; funds research into canine diseases; and supports state and territory-based member bodies. Dogs Australia promotes breed conformation shows and community sports for dogs that fulfil a breed's natural instincts.